Thursday, September 28, 2017
Posted by

firesprinklers
at 4:34 PM
No comments:


Wednesday, September 27, 2017
from Chicago Times
Hugh Hefner, Playboy founder who built his empire in Chicago, dies at age 91
Rick Kogan
Contact Reporter
Chicago Tribune
Some years ago, sitting in his castlelike mansion in the Holmby Hills neighborhood of Los Angeles, Hugh Hefner was telling a visitor about the Halloween party taking place there in a few days. It would be — what? — the 7,435th party of Hefner's exceptional charmed and successful life, a lavish bash for 1,000 or so of his closet and most comely friends.
"Now, this is a costume party," said Hefner. "You will have to wear a costume."
"I was thinking," said the visitor, "that, with all due respect, I might get some pajamas, a robe, a pipe, slippers and a Pepsi and going as, well, the young Hugh Hefner."
The then 73-year-old Hefner laughed. He gave a sly smile and said, "I'm sorry. That won't work. I'm going as the young Hugh Hefner."
Influential and controversial, admired and vilified, and seemingly forever young, the Chicago-born publisher of Playboy magazine and the Bunny-emblazoned empire that it spawned, Hugh Marston Hefner died peacefully at home Wednesday from natural causes. He was 91.
That life started on April 9, 1926, at Michael Reese Hospital, where he was born the first of the two children—younger brother Keith was born in 1929; he died in 2016 at 87 — of Grace and Glenn Hefner, she a schoolteacher and he an accountant and both originally from Nebraska.
The family lived in Chicago at 1922 N. New England Ave. in the Galewood neighborhood on the Northwest Side, where they attended Methodist church and the children went to Sayre Elementary School. When he was 8 years old, Hugh Hefner started a school newspaper called The Pepper, despite a warning from a concerned teacher that "if he continues to waste time on this, he will never amount to anything."
"But I was a smart little boy," he told a Tribune reporter in 1999.
He attended Steinmetz High School and later recalled, "The best time of my life before Playboy was my last two years at Steinmetz. It was a coming-of-age time. It was the first time I went steady. I was a class leader, writing and performing in plays and shows, working on the paper. The things I enjoyed were the things between classes."
One of his passions was cartooning, and as a teenager he created a magazine called Shudder and had a Shudder Club for all of his pals. He also started a cartoon autobiography called "School Daze," which he continued while serving two years in the U.S. Army infantry and later in college.
His other early passion was the movies.
"There is no way to underestimate the effect movies had on me as a boy," Hefner said. "My dreams came alive at the Montclare Theatre on Grand Avenue." He remembered, as a child of the Depression, watching cinematic depictions of the roaring '20s, "all those images of the Jazz Age, the flappers ... and thinking that I'd missed the party."
He would not miss many parties the rest of the way.
In 1946, after a brief stint at the Art Institute of Chicago, where he took a summer art course in anatomy, Hefner enrolled at the University of Illinois at Urbana-Champaign. By doubling up on classes, he graduated 21/2 years later with a bachelor of science degree, majoring in psychology. While at university, he edited the campus humor magazine, Shaft, introducing a feature he called "Coed of the Month." He also drew cartoons for the campus newspaper, The Daily Illini. At the time, he began to develop a philosophy that linked freedom of speech and the press with individual rights and a rejection of what he called "our legacy of puritan repression."
"For me, journalism isn't just one more profession," Hefner said years later, when donating $500,000 to endow student fellowships in the university's school of journalism. "It is one that goes to the heart of democracy."
His own professional path began in Chicago with a job as a promotion copywriter for Esquire magazine. When that publication decided to move to New York, Hefner asked for a $5 raise to his $60-a-week salary. When it was denied, Hefner decided to stay behind and start his own magazine.
He was married by then and a father. He had wed his high school sweetheart, Mildred Williams, in 1949, and they shared their small apartment in Hyde Park with baby daughter Christie, born in 1952.
"The marriage was not good from the outset," Hefner would later say. "We both had serious doubts before getting married. But I had no other game plan except to get married and, somehow, live happily ever after. But very soon I started becoming afraid that I was turning into my parents. I started to see that happening to my peers. People who were so much fun in high school were going dull.
"I would walk around looking at the lights of high-rises. I felt like an outsider. I would fantasize about the lives that were going on inside those apartments and wonder whether I would ever be a part of it."
He mortgaged his furniture and took out a loan for $600 and borrowed $3,000 from friends and relatives to start Playboy. His initial idea was to start Chicago city magazine, an aim he redirected in 1953 when he found he could rent a naked picture of Marilyn Monroe from the Baumgarth Calendar Co. for $200.
And so Hefner put together the first issue of Playboy on his kitchen table. The first issue had no date because Hefner wasn't sure there would be a second.
That first issue came out in December 1953. It was 48 pages with a center spread featuring a nude calendar photo of Monroe. About 70,000 copies were printed. Nearly all sold within two weeks.
The magazine was to be, Hefner said, "devoted to subjects I was interested in — the contemporary equivalents of wine, women and song, though not necessarily in that order."
Hefner had originally wanted to call his magazine Stag Party, with a stag as its image, but that ran into copyright problems. So Playboy was chosen, and as the magazine's first art director and first employee, local artist Art Paul, recalled, "We'd been talking about animals and we thought of the rabbit, the playboy of the animal world."
It took Paul only about an hour to sketch the famous rabbit head. He intended that it be "a quarter inch high, sort of a friendly signoff to articles." The second issue of the magazine had the rabbit logo on the cover, as did every issue since in all manner of sizes and variations. It soon became such a recognizable symbol that a letter addressed only with that bunny once made it successfully from California to the company's Chicago headquarters. It is as famous and recognizable as any logo of the 20th century, something that sits in the collective consciousness of the planet alongside McDonald's Golden Arches, Disney's Mickey Mouse, Apple's apple or Nike's swoosh.
Quickly, the fledgling magazine moved into its first offices, at 11 E. Superior St., across the street from Holy Name Cathedral. A company that made kneeling pads was out back. To celebrate the first anniversary of Playboy in 1954, Hefner took his whole staff out to lunch. There were seven of them and they filled one booth at the old Charmet's Restaurant, at Chicago and Michigan avenues.
"I really wanted to focus on the good-life concept. A lifestyle. A point of view we were trying to express," Hefner once said. "And we hit a nerve.''
The magazine offered a new set of ethical values for an urban society. The message was loud and clear: Enjoy yourself.
The magazine quickly reached a circulation of 1 million and then 2, 3 ... topping out eventually at more than 8 million in the early 1960s and spawning magazine racks full of imitators, none nearly as successful.
Hefner and his wife divorced in 1959. She got custody of the two children — Christie and her younger brother, David, who was born in 1955 — remarried and moved to the North Shore.
Hefner moved into a 48-room mansion at 1340 N. State Parkway, affixed a sign near the door (translated from the original Latin it said, "If you don't swing, don't ring") and began to cultivate an image and a lifestyle that would define him, his magazine and an era.
"Obviously he wasn't a hands-on father," said Christie Hefner, who would as an adult serve as the chairman and chief executive officer of Playboy Enterprises. "But he was a good father. I had my 16th birthday party at the mansion. There was never a period of time when I didn't see him."
In the heyday of the Playboy empire, in the 1960s and 1970s, Hefner's life was an open magazine piece. Almost every month, somewhere in the world, a major publication did an analysis of Hefner and the Playboy phenomenon. When Tom Wolfe was inventing New Journalism, he made the Playboy Mansion a major stop on his epochal cross-country tour for the Sunday magazine of the New York Herald-Tribune. Time magazine accorded its highest laurel, a cover profile, to Hefner in 1967: "Hugh Hefner is the prophet of pop hedonism."
In that story Time called Hefner "the first publisher to see that the sky would not fall and mothers would not march if he published bare bosoms; he realized that the old taboos were going. ... He took the old-fashioned, shame-thumbed girlie magazines, stripped off the plain wrapper, added gloss, class and culture. It proved to be a sure-fire formula."
Millions of words have been written in an attempt to unravel that "formula."
Among the most intriguing come from Barbara Ehrenreich in her book "The Hearts of Men: American Dreams and the Flight From Commitment." "(The real message of Playboy) was not eroticism, but escape — literal escape from the bondage of breadwinning."
The images of naked women, she wrote, "were necessary not just to sell the magazine, but to protect it. When, in the first issue, Hefner talked about staying in his apartment listening to music and discussing Picasso, there was the Marilyn Monroe centerfold to let you know that there was nothing queer about these urbane and indoor pleasures. And when the articles railed against the responsibilities of marriage, there were the nude torsos to reassure you that the alternative was still within the bounds of heterosexuality. Sex — or Hefner's Pepsi-clean version of it — was there ... to prove that a playboy didn't have to be a husband to be a man."
Much of the press coverage of the time was devoted to the Playboy Mansion, where Hef holed up for much of the 1960s. Often, visitors found the living room awash in cables of some eager-beaver foreign film crews, chattering about Hefner's cutting-edge electronics room or the Woo Grotto behind the downstairs swimming pool.
What was off-limits to casual visitors was the tucked-away Roman Bath, reached by a narrow stairwell descending from Hefner's bedroom, which featured a round, rotating bed from which, for years, he conducted his share of the business of the magazine/entertainment empire.
The Roman Bath, say several who saw it, included baroque gold spigots and faucets that sprayed and showered, a tub with chest-high water and, in a separate alcove, a mink-covered waterbed lying under a mirrored ceiling.
Among impressed visitors was Italian journalist Oriana Fallachi. In a much-quoted essay, she told of what she had found on a trip to Chicago: "First of all, the House. He stays in it as a pharaoh in his grave, and so he doesn't notice that the night has ended, the day has begun, a winter passed, and a spring, and a summer — it's autumn now. Last time he emerged from the grave was last winter, they say, but he did not like what he saw and returned with great relief three days later. The sky was again extinguished beyond the electronic gate, and he sat down again in his grave: 1340 North State Parkway. But, what a grave, boys!''
In the mid-1960s, friends worried about the Near North Side recluse, with irregular sleep habits, whose weight had dropped to 135 pounds, despite a diet built around fried chicken and candy bars. In 1968, he decided to mend his ways, "part of a new image called living longer,'' he said. He started to eat wholesome foods, slept more, put on 40 pounds, rethought his wardrobe, bought a DC-9 jet and had it fitted with a James Bond interior and a Bunny logo on its upswept tail.
By 1971, when Playboy Enterprises went public, the magazine was selling 7 million copies a month, there were 23 Playboy clubs, resorts, hotels and casinos, along with ventures in book publishing, merchandising, modeling, records, TV, movies and a limousine company. The corporation employed 5,000 people, including 1,000 waitresses, dressed in skimpy black silk costumes and known as Bunnies.
That same year, attracted by the entertainment possibilities of the West Coast, he set up a second residence in Los Angeles, buying a 51/2-acre estate in Holmby Hills. By 1975, the Chicago mansion was donated to the School of the Art Institute as a student dormitory and later converted into private condominiums. But the company's headquarters remained in Chicago, in two locations, in the former Palmolive Building and a later space on Lake Shore Drive.
After withstanding withering feminist attacks for decades, Hefner and his empire were seriously bruised by a growing conservatism in the 1980s, by the Christian right and by the Meese Commission on Pornography. And by scandal when former playmate Dorothy Stratton was murdered by her husband, and many, including film director and Stratton lover Peter Bogdanovich, placed some of the blame on Hefner. The once thriving chain of Playboy clubs and hotels got shabby and empty, magazine circulation steadily slumped and Playboy lost its lucrative casino licenses.
Christie Hefner began to head the company in 1982. She had to fire 100 employees in a drive to cut overhead. Hefner had to sell paintings, a de Kooning and a Jackson Pollock, as well as his airplane, the Big Bunny, to raise cash.
"These were very dark times," she said. "We were in real trouble."
In 1985, Hugh Hefner suffered a mild stroke. The following year a Newsweek cover story — "The Party's Over" — featured a photo of a haggard Hefner.
"This was a period of re-evaluation for my father," Christie Hefner said. "But I think that he never lost his optimism. I was so intimately involved in his decision to change his role in the company — stepping off the board and handing over the titles of chairman and CEO (in 1988) — that I understood better than most his need to redefine his life. Along with that business evolution, I felt he really might be open to falling in love and getting married."
And so he did. On July 1, 1989, Hefner married for a second time, to Kimberly Conrad, Playboy's 1989 Playmate of the Year. They were married in front of the wishing well on the lawn that fronts the LA mansion. The house and grounds were awash in white: 10,000 white roses and 1,500 yards of white satin.
The couple's first son, Marston Glenn, was born nine months and one week later, followed by a second son, Cooper Bradford, in late 1991. Over the next years Conrad attempted to domesticate the mansion. "The Gang," as some old Hefner pals are known, stopped dropping by. The sign in the steep driveway was changed from "Playmates at Play" to "Children at Play."
But she started to feel that Hefner was "too controlling," his schedule too regimented. It became for her "monotonous." It was she who requested the separation.
He later said, "We drifted apart. In those first months after the separation, people would say, `You must be hiding a lot of pain,' and I'd tell them that the reality is that the pain came long before the separation." Indeed, he purchased the $7 million house next door to the mansion for her two years before the separation was made public.
It was at the LA house in the winter of 1999 that Hefner said, "I have to count my blessings. At this age [he was 73] — after all the hits I've taken in business and personally — the last two years have been absolutely unbelievable for me."
He admitted to having some minor plastic surgery "to get rid of the turkey skin" on his neck"; he felt "rejuvenated, reincarnated, whatever the hell it is."
For his 70th birthday, daughter Christie had given her father a video filled with photos and movies clips of them together since her childhood.
For his 72nd birthday, his doctor gave him a prescription for Viagra.
"It's Peter Pan time. I'm living a grown-up version of a boy's dream, turning life into a celebration," Hefner said. "It's all over too quickly. Life should be more than a vale of tears."
He was on every Important-People-of-the-Century list.
"No publisher, no editor, no cartoonist, no writer ... can match Hefner's claim that he threw the biggest bomb in the greatest societal revolution in American history," writes F. Richard Ciccone in his book "Chicago and the American Century: The 100 Most Significant Chicagoans of the Twentieth Century." "If Hefner did not single-handedly start the sexual revolution, he was it's Patrick Henry, Thomas Jefferson and George Washington combined."
That was all very flattering.
But what really tickled Hefner was the embrace of some feminists — Camille Paglia has said, "(Hefner) is one of the principal architects of the modern sexual revolution" — and the adulation of a new generation.
"It's so wonderful to have young kids come up to me in clubs — boys and girls — and say, 'You're the man,'" he said.
Those "young kids" were such celebrities as Leonardo DiCaprio, Cameron Diaz, Ben Stiller and Courtney Love. They, along with such hedonistic loyalists as Robert Culp, Tony Curtis, Robert Blake, James Caan and Jack Nicholson, turned Hefner's Los Angeles mansion back into the most prominent adult playground in the country; his life into a joy.
As the new century dawned, Hefner was more visible than he had been in decades. He was named to the Hall of Fame of the American Society of Magazine Editors. He was the subject of two documentaries, one a part of the Arts & Entertainment "Biography" series. There was "Hefner: Unauthorized," which focuses on the sex and drugs, and the 1975 suicide of Hefner's longtime assistant Bobbie Arnstein.
In talking to a Tribune reporter about his renewed popularity, he said, "A lot of young people feel that they missed out on the party that was the '60s and '70s. The attitude of the '80s and early '90s was very conservative — socially, politically and sexually. It was a reaction to the freedom and excesses of the '60s and '70s. What's happening now is a counter-reaction, a desire to get into what was a great party."
And Hefner was its living, still-swinging symbol. Writer Gay Talese had called Frank Sinatra "the embodiment of the fully emancipated male," but the term is more appropriate for Hefner. The mere mention of his name could evoke all manner of freewheeling images.
He emerged from the dark decade of the 1980s and his marriage of the 1990s to discover that he was a white hot flame, attracting a new wave of swingers, would-be and for-real, male and female. Circulation of Playboy, which then stood at about 3.2 million, had risen 65 percent on college campuses in the last three years of the last century.
"This is a new generation," Hefner said, "without the same hang-ups and prejudices that dominated the 1980s."
His mansion parties were the hottest ticket in a hot-ticket town.
At a Halloween party in 1999, two decorative gargoyles perched on the roof of the 10,000-square-foot Tudor-style mansion. Tombstones filled much of the lawn area on the home's hilly 51/2 acres. Every inch of the property — the sunken tennis court, the pool and its grotto with whirlpools and mattresses, the aviaries, the heavily wooded pathways — was done up for Halloween. There were black-and-orange tents, a haunted house, hundreds of monster masks hung in the hallways, life-sized monsters and movie stars lounging about.
"It's all just Aladdin's Castle at old Riverview Park," said Hefner, referring to Chicago's legendary amusement park.
And through it all, Hefner still worked. With the help of three women who worked in a guest house at the mansion, part of the mansion staff of 70, he filled the more than 2,400 bound scrapbooks that chronicle, in intimate detail, Hefner's life.
"And I am more involved in the magazine in the last two years than in a very long time," he said then. "I'm not looking for new worlds to conquer. It's more of the same. The global nature of the business. The Internet. This is, I think, the most exciting time for the company since the very beginning."
The company was again healthy, revenue up.
Christie Hefner was in LA every other month or so for three or four days at the mansion. (Brother David, a computer whiz lived in northern California, is an infrequent visitor). "I think of (my father) more as a partner than a colleague. Of course, I think of him as my dad, not just in biological fact but because we love each other deeply and without reservation. He's also my buddy because he's just a lot of fun."
"He is 'Mr. Playboy,'" she said, adding that her father still set the creative direction for Playboy Enterprises and approved major editorial decisions. "Most of all he is a living promotion for the brand. That image is essential to the company."
That image was most prominently captured in a monthly photo feature in the magazine known informally as "Hef Sightings."
"We run reader research surveys," Christie Hefner said. "Do you know that the strongest appeal of the Hef Sightings is among those readers 18 to 24 years old?"
There were some who believed this fascination with Hefner and Playboy was merely a passing retro phase. A few former lovers and playmates argued that Hefner's public exuberance is masking an empty life. Others claimed he was out and about simply to help try to repolish the Playboy image. "There may be some mixed feelings about what I'm doing," he told a Tribune reporter. "But what my life represents, probably now more than ever before, is the possibilities.
"There is a lot of pressure to make us put our childhood away. But the boy is not only the father to the man, the boy is the best part of the man. (Boyhood) is when we dream the best dreams."
During the last decade or so, the parties had become fewer, the Hef Sightings less frequent. He might make an appearance in a film of TV show, most notably on "
The Girls Next Door
," a reality series that ran for six seasons (2005-2009) and 90 episodes. He had a Twitter account. He was married again in 2012, to former Playmate Crystal Harris, who was 27.
He watched his youngest son, Cooper, become chief creative officer of Playboy Enterprises, which Cooper describes not as a magazine, which it still is, but as a "digital content company."
In January 2016, the Playboy Mansion was put on the market for $200 million, on condition that Hugh Hefner would continue to work and live in the mansion. And that is where he watched early in 2017 the 10 hourlong episodes of the aptly titled Amazon Studios series "American Playboy: The Hugh Hefner Story." Cooper was one of the producers, and the series had his father's stamp of approval. About it Hef said, "This is my story, or at least how I remember it."
Hefner is survived by his wife, Crystal, daughter Christie and sons David, Marston and Cooper. Information regarding memorial services was not available.
He will be buried in a mausoleum in Westwood Memorial Park, where, in the mid-1990s, Hefner bought the drawer next to that of Marilyn Monroe, his first cover girl, for his final resting place.
rkogan@chicagotribune.com
Posted by

firesprinklers
at 10:02 PM
No comments:


Tuesday, September 26, 2017
from pe.com
The 2,000-acre fire has prompted the closure of the right lane of the eastbound freeway between Coal Canyon and Green River Road, as well as the closure of the eastbound Green River offramp.
The lanes will remain free until 9 p.m. Tuesday.
On Tuesday, the key to the battle were the winds – which shifted on Monday, causing a headache for firefighters.
And amid the chaos, a Corona motorcycle officer received minor injuries after he was
struck by a vehicle
that skirted one of the barricades. The driver was arrested on suspicion of felony hit-and-run.
Watching the winds
Winds were pushing flames toward Irvine Lake, just north of Irvine in Orange County, but firefighters said they'd keep an eye on the breeze, in case it shifted.
The lake was closed as firefighters used it as staging ground.
"Firefighting agencies will have to adjust their tactics when the wind changes direction," said National Weather Service Meteorologist Philip Gonsalzes. "That's a factor they are going to have to account for."
Both Corona and Anaheim expect a high of 88 degrees on Tuesday.
The relative humidity will remain low at about 10 percent and winds were expected to be about 10 mph, with gusts of 20 mph.
Winds will die down Tuesday night and into Wednesday and the humidity will increase to about 40 percent, but are not expected to make much of a difference in the fire's progress, Gonsalzes said.
Temperatures on Wednesday will again be around 90 degrees, westerly winds will range from 10 to 20 mph and conditions will remain dry. There is no forecast of rain in the foreseeable future, Gonsalzes said.
An
advisory released Tuesday
by the South Coast Air Quality Management District warned that smoke could reach into parts of southern Orange County and into Lake Elsinore in southwest Riverside County.
"Everyone worries about the flames, but smoke can impact you even if you're miles away from the fire," Dr. Cameron Kaiser, Riverside County public health officer, said in a separate news release.
Both organizations advised residents, among other things, to avoid exertion – both indoors and outdoors.
Tuesday updates
On Tuesday morning, the CHP had closed eastbound 91 Freeway off-ramp at Green River Road until further updates.
Also, as of Tuesday morning, the following schools were closed: Adams, Coronita, Eisenhower, Franklin and Prado View elementary schools, Citrus Hills intermediate and Cesar Chavez Academy.
All other district schools will be open, including Corona High School, but will be operating on an "inclement weather schedule" due to poor air quality, intended to keep students inside, according to a social media post by the school district.
Updates will be posted to the district's website and Facebook page.
As of 10:45 a.m., 900 personnel were on scene from Orange County Fire Authority, Anaheim Fire and Rescue, Cal Fire, the Corona Fire Department, U.S. Forest Service and multiple jurisdictions said Orange County Fire Authority Capt. Steve Concialdi.
Nine helicopters and nine aircraft were involved, Concialdi said.
Also, the Riverside County Board of Supervisors issued an emergency declaration, which is the first step toward accessing state funds for damage repair through the California Disaster Assistance Act.
'Part of the community'
Several organizations stepped up to help refugees: Ralphs, the Islamic Society of Corona-Norco and U-Haul.
The Ralphs on Green River Road
stepped up to help evacuees
, providing them with coffee, snacks, fruits and pastries and a place to charge their cellphones.
"Honestly, that's why we do this," said Assistant Manager Michael Soria. "We do this because we're part of the community."
Resident Judy Harris said the trip to Ralphs gave her the chance to mingle with other evacuees.
"I've lived here 27 years and never met my neighbors," Harris said. "It took something like this to meet my neighbors."
Harris adds: "And it was my birthday. I celebrated it at Ralphs. Now, I just want a cupcake with a candle on it."
"That was the minimum we could do," said Ahsan Baseer, president of the Islamic Society of Corona-Norco. "It's our duty to make sure the community and our neighbors are safe."
While no evacuees were at the center Tuesday afternoon, any evacuee who needed shelter was still welcome. To contact the mosque, evacuees may call 951-736-8155.
"I was watching the news (Tuesday) morning and seeing all the people who had to evacuate their homes," said Sylvia Satchell, president of the U-Haul Company of Riverside. "I remember my situation last year and how that affected me. I wanted to help.
Returning home — albeit, briefly
Firefighters were allowing residents to briefly stop at their homes, fearing the winds could shift and return flames to their doorstep. — but only with ID and only by foot.
Jamie Bishara was returning to pick up medication.
"It was very scary," said Bishara, who was staying with her daughter, also a Corona resident. "Like we were in the middle. And the fire was all around us.
"Thank god we're safe," she continued. "And thank god to everybody who helped."
VIDEO: Resident Jamie Bishara talks about briefly returning home.

#

canyonfire
Mita Mizan, who lives on Hidden Hills Way just south of Green River Road, said she and her family had returned about 11 p.m. Monday.
"It was very close and very scary. I've never seen a fire like this in this area," she said.
Mizan and her family — including her husband, mother-in-law and her two sons — fled their home around 8 p.m.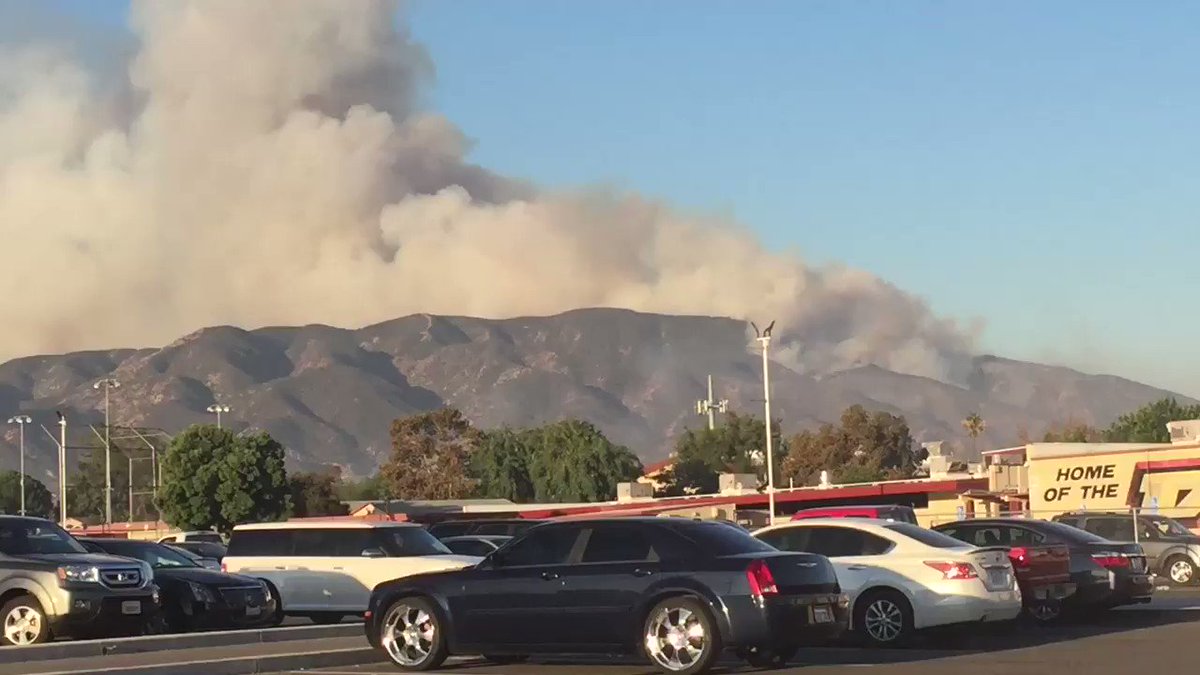 "There were police everywhere and firefighters," she said Tuesday morning, wrapped in a colorful shawl as she readied to take her 16-year-old for school. "They said it was mandatory we had to leave and my sons wanted to leave so we did."
Mizan said it was hard to leave her home of nearly 20 years but the heat from the flames that scorched the back yard of her neighbor's home was enough to get her and her loved ones out the door with only their most important documents and possessions.
"I could see the flames from the 60 Freeway yesterday," said Ahsan Baseer, of Corona. "It was very scary."
Baseer lives near Green River Road and although his neighborhood wasn't evacuated, he said homes a few blocks away were.
Staff writer Scott Schwebke contributed to this report.
Video from Canyon Fire from Corona HS
Posted by

firesprinklers
at 5:07 PM
No comments: